Group Ballroom Dance classes and/or Latin dance lessons are a fun and affordable introductory way for children to learn to dance. By learning in a group, your child can make many new friends! In addition, dancing with a partner allows your child to learn about social interaction, how to be courteous and polite to other children. We offer group Ballroom dance classes for everyone, from Children to Teens. Our group Ballroom dance lessons and Latin dance classes are challenging, fun and affordable!
Ballroom dance and Latin dancing is a rewarding activity that involves physical exercise, coordination (since you perform different choreographed dance steps), mental stimulation (requires processing of information, memorization and floorcraft, all which need to be performed simultaneously) and social interaction (working with a partner).
Starting Ballroom dance and Latin dancing at a young age has many benefits. First, it involves children in a productive activity which they can enjoy for the rest of their lives. Second, this activity releases youth's excess energy in a constructive manner (would you rather your child watch TV or do some dancing?). Third, it provides children with a community of their peers, with whom they socialize and interact in a positive, respectful manner. Below, please find a schedule of children dance classes.
In this group dance class your child will learn basics of traditional Latin dances such as Salsa and Cumbia as well as modern International Latin Style dances such as Rumba and ChaCha. This a very fun and energetic class.
*** Class is ongoing, register and join any time. Once paid online we will add your child's name to the roster. You can also register in-person at the studio.***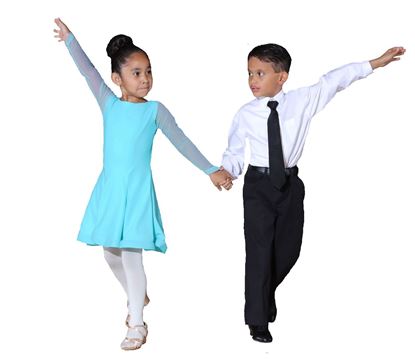 This is a class for children that want to participate in dance competitions, known as DanceSport. In this group dance class your child will learn simple routines of International Ballroom and Latin dances such as Waltz, Quickstep, Rumba and ChaCha. This a very fun and energetic class that requires stamina and focus. We will be specifically focusing on preparation for competitions.