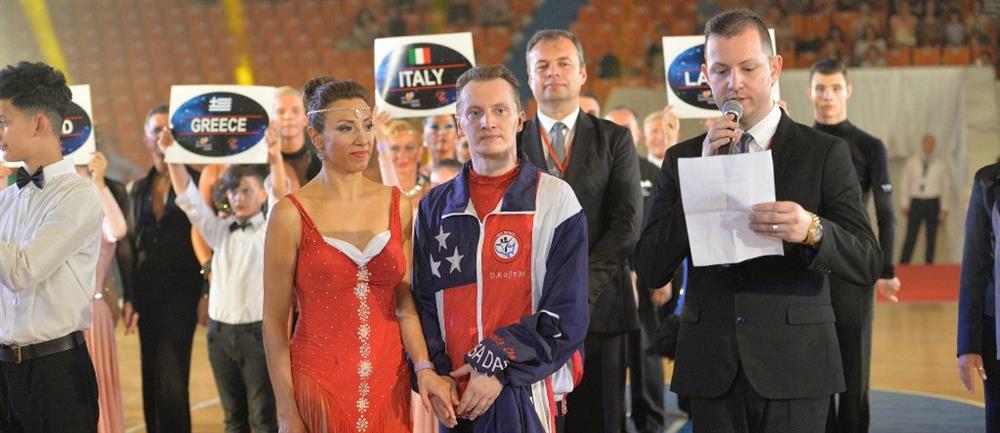 Denis Kojinov and Jeanette Chevalier are dance instructors, performers and active competitors. They compete regularly Nationally and Internationally in International Standard and Latin (10-Dance) at USA Dance, National Dance Council of America (NDCA) and World DanceSport Federation (WDSF) DanceSport competitions. Some of their titles are: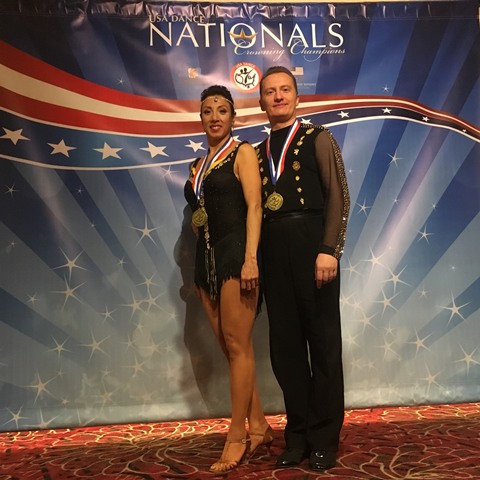 2022 USA Dance Nationals, 1st place Senior Championship 10-Dance (Standard and Latin)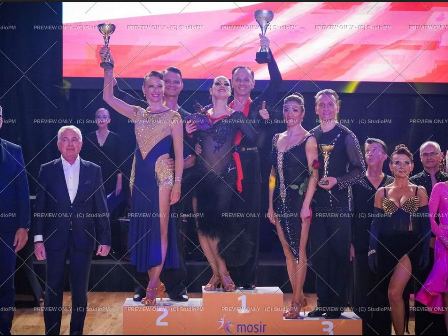 2019 WDC World S3 10-Dance Championships 3rd Place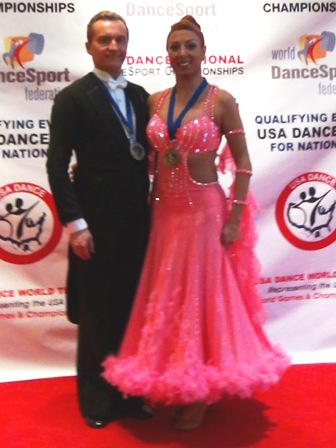 2014 USA Dance National S1 10-Dance Champions (Standard and Latin)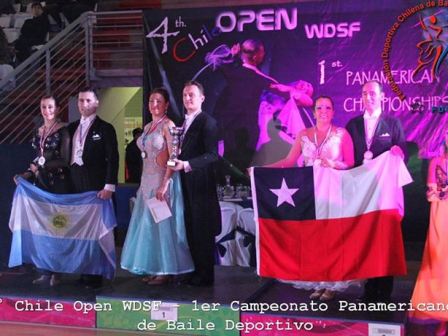 2015 WDSF Pan American S1 Standard Champions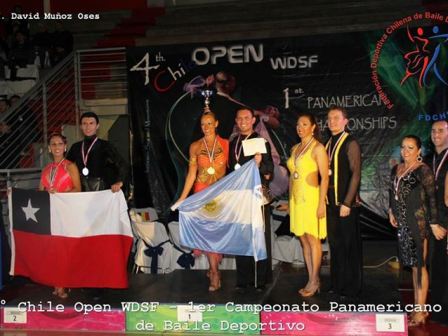 2015 WDSF Pan American S1 Latin 3rd Place
Training:
Denis and Jeanette continue striving to improve their level of dancing through taking coaching, workshops, group classes and other lessons with both local and international instructors. They have been fortunate enough to receive instruction from a variety of renowned coaches/instructors including, but not limited to: Billy King, Barbara King, Olga Rodionova (Richardson), Vika Belova (Soto), Milana Pliner, Eddie Stutts, Corky Ballas, Maria Manusova, Ron Bennett, Daniel Calloway, Erminio Stefano, Giampero Giacomo, Alain Doucet, Anik Jolicoeur, Karina Smirnoff, Jean Marc Generaux, France Mousseau, Shirley Ballas, Donald Johnson, Danny Quilliam, Ieva Pauksena, Bill Sparks, Melissa Dexter, Arunas Bizokas, Katusha Demidova, Glenn Weiss,Sami Yli-Piipari and many others who were also instrumental, but whose names escape us at the moment. They continue to take coaching regularly to both improve their dancing and keep current on new dance trends.
Dance Competitions:
Denis and Jeanette believe competition is the key to staying fresh on dancing skills and regularly attend DanceSport competitions. Some of the domestic competitions they attend(ed) include, but are not limited to: NDCA US National AmateuDanceSport Championships, Emerald Ball, USA Dance Nationals, United States National Dance Championships (USDC), Ohio Star Ball etc.
Currently, their primary goals are to achieve better results at International competitions. As members of National Team, Denis and Jeanette have been representing USA for several years at World Championships organized by both WDSF and WDC (Paris Worlds). They have been honored to read competitors oath at several World Championships.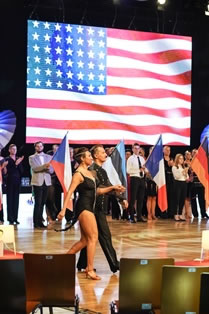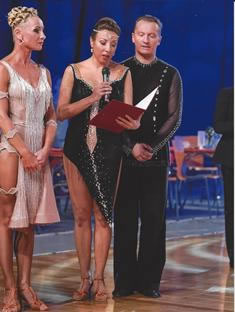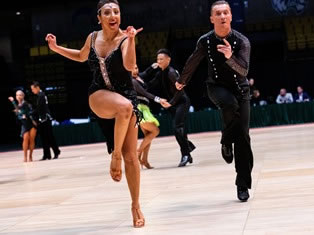 Teaching:
Denis and Jeanette started teaching and coaching Ballroom and Latin dance at the University of Houston (UH) Social Dance Club where Jeanette previously served as an Officer. Under their guidance, the club was transformed into Cougar DanceSport – a Sports Club at UH where members train and compete regularly at local collegiate and National DanceSport events, winning and placing often. Club members for the past several years have represented the Houston dance community at USA Dance National Championships and were the first International style Bronze/Silver level adult competitors from Houston to attend this event in many years.
Currently Denis and Jeanette teach  private dance lessons  and  group dance classes  for kids and adults at DanceSport Club. They teach both social dancers and competitors. For those interested in competitive dancing DanceSport Club organizes trips to dance competitions.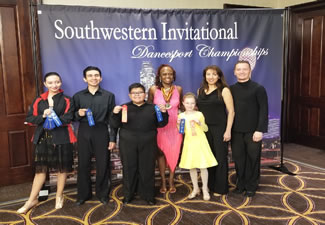 Dancing with Students (Teacher/Student):
Ballroom dancing is a partner dance. It is different from solo dance styles like ballet or jazz that it requires two people to dance together. Unfortunately it is not an easy task to find a good dance partner! This problem applies to both adults and children. Thus, due to difficulty of finding partner many dance students choose to dance with their teachers. This way student gets to enjoy dancing and does not have to worry too much about his/her partner. Denis and Jeanette enjoy dancing with their students whether at showcases or at competitions. Contact them if you are looking for a good teacher to dance with!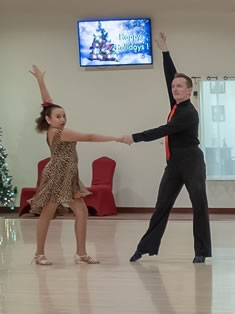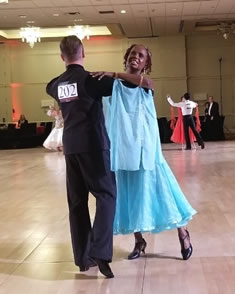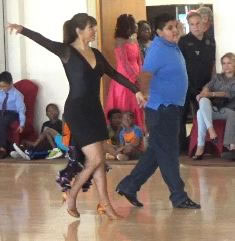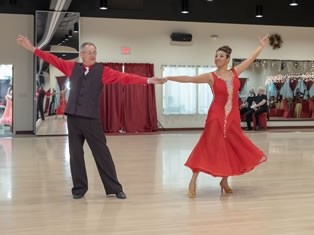 Community Involvement:
Denis and Jeanette have a strong passion for dancing and giving back to the community. They have been deeply involved in the Houston dance community for many years, including Jeanette serving as Vice-President of the USA Dance Chapter for several years, as well as being supportive members of a variety of dance clubs in the area. They participate in local dance events to help promote Ballroom and Latin dancing within the community. Their goal is to popularize DanceSport within the surrounding community and bring Houston's level of Ballroom and Latin dancing to the National level. Contact us if you are interested in performance by Denis and Jeanette.
Dance Costume Design:
As if dancing, teaching and competing in Ballroom and Latin dance were not enough, Denis and Jeanette design and make costumes and dancewear for Ballroom, Latin and other forms of dance at local Houston area store  International Dance Design  . Denis and Jeanette would be more than happy to serve the dance community's needs in any way they can