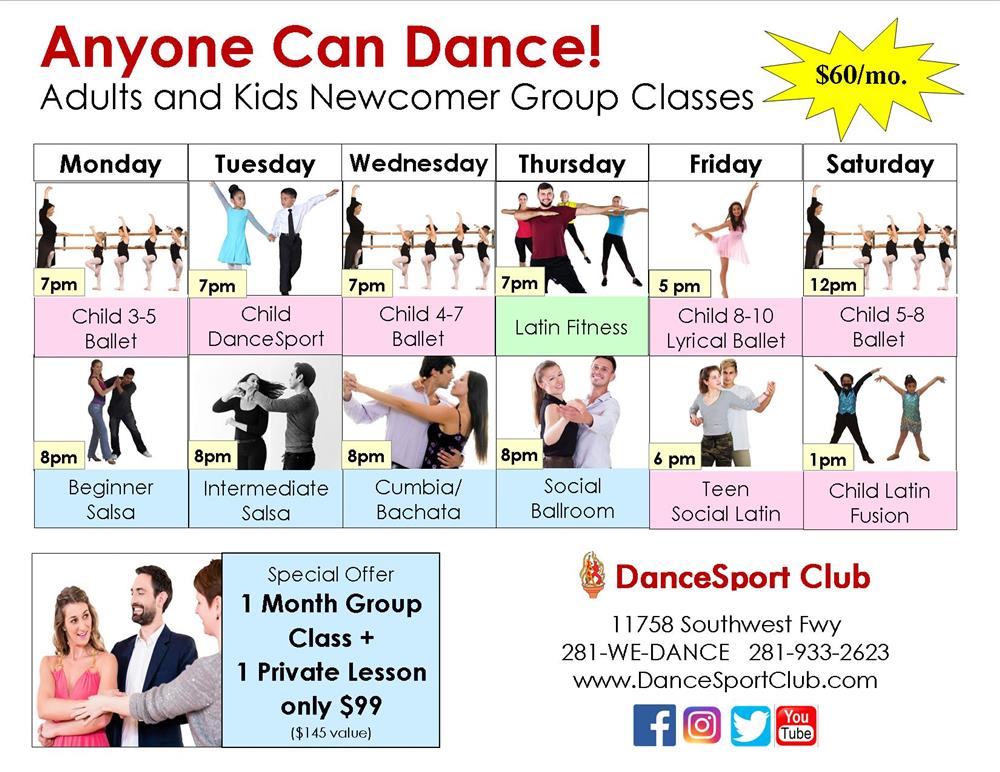 It is not a joke. April group classes start today, April 1. We have group dance classes for adults and kids. Register today online or at studio.
Children dance classes
We offer group dance classes for children such as Ballet, Ballroom and International Latin. Most of our children group classes are a newcomer level, no experience and no partner required. In these classes we teach children basics of coordination, movement, musicality etc. Group dance classes are a fun and affordable way for children to learn to dance. Dancing is just a great well-rounded activity that allows children to express their creativity, socialize and learn. We offer group dance classes for children and teens in Ballroom, Latin, Ballet and Hip Hop. Whether your child wants to be involved in individual dance, partner dance, dance for fun or compete we have it!
Adult dance classes
For adults we offer Ballroom (Waltz, Foxtrot, ChaCha, Rumba) and Socail Latin (Salsa, Bachata, Cumbia). We call our adult dance classes "Anyone Can Dance"!
Our "Anyone Can Dance" series of Newcomer Level (really beginner-beginner) adult group dance classes is designed to introduce anyone to dancing. We have group dance classes in Salsa, Cumbia and Bachata and Social Ballroom.
We really mean it. These adult group dance classes are designed for busy working adults who want to learn to dance. So, we have thesedance  classes in the evenings so that you can make it after work. Dance classes are fairly simple, we do not expect you to have any prior knowledge of dancing at all. We expect you to have two feet though, even if they are both left.
In our adult group dance classes you will learn about 3-4 (maybe 5 if the group pick up quickly) basic steps of a particular dance. This will not make you a pro, but you should be able to dance at a social dance or event.
Private dance lessons
There are time when group classes simply do not work for you. It may be a scheduling issue such as you cant attend Salsa class on Mondays. It may be that we do not offer group dance class for the type of dance that you want, for example Two-Step. It may be that you have outgrown basic group dance classes and want something more advanced. In these cases Private dance lessons may be the best solution. They are flexible to schedule and we teach dances that you want to learn.