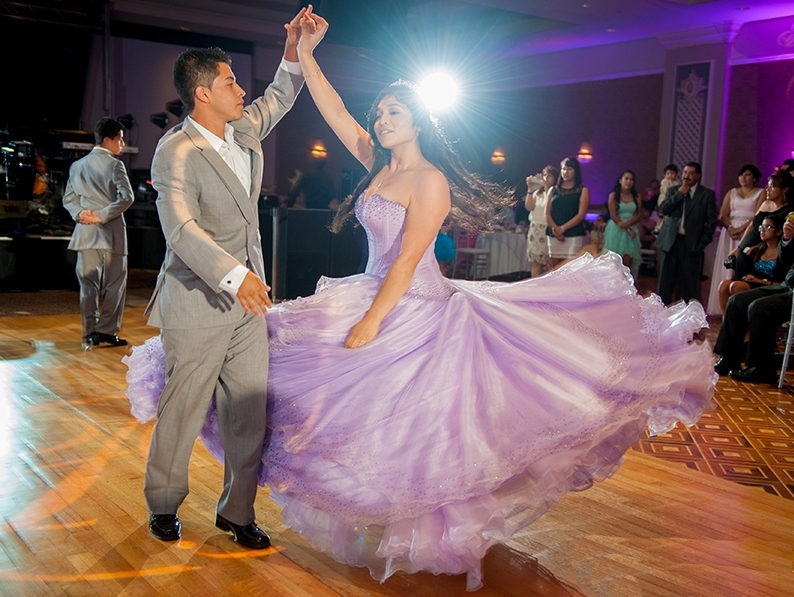 Our quinceanera dance lessons in Houston help people making their special day even better. Modern Quinceañera celebrations in Houston are often a fancy parties that include many guests. In many ways they are very similar to a wedding. Planning a Quinceañera starts early and family and godparents save money for the party until the girl is of age. Prudent preparations can take anywhere from half a year to two years.
Dancing is often an important part of the Quinceañera celebration. The dances included in the Quinceañera have to be learned and be ready to perform in front of guests. In addition to specialty dances like the Father Daughter Dance, Waltz group dance, and "surprise dance," celebrants and guests often dance to Salsa, Cumbia, Cha Cha, Merengue, Bolero and Rumba music.
One of the most popular quinceañera traditions is the waltz, an elegant, choreographed dance performed by the birthday girl and her court. If this is also the first dance of the celebration, the quinceañera will take her father as her partner. It can often take months of planning and several rehearsals to prepare a court for the choreographed dance. And some families choose to hire a professional dance choreographer to guide the party.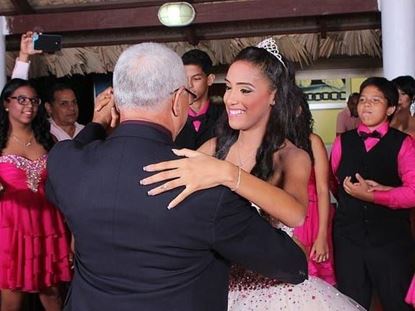 The Quinceañera today still includes the father and daughter dance. It continues to be one of the most emotional parts of the Quinceañera celebration as it symbolizes the birthday girl's first dance as a young woman with her father. If the father is not available, usually an older man that has served as a father-figure will dance. The father and daughter dance is traditionally a waltz and it's often an opportunity for the father to give his daughter words of encouragement as she takes her first steps into womanhood. According to custom, a quinceañera's first dance is with her father. It's usually to a song of the father's choosing that has a certain significance to them. Traditionally, it also represents a girl's first public dance. Afterward, the father can hand the quinceañera over to her escort.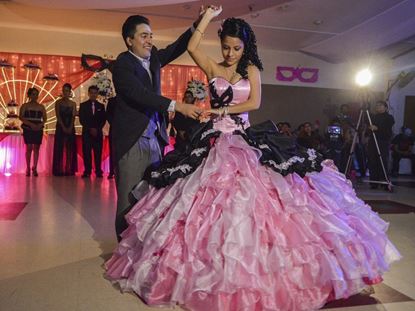 Following the father and daughter dance, the Quinceañera chambelan (or the birthday girl's escort) will approach the father and ask for permission to dance with the birthday girl. Traditionally, Chambelan will dance Waltz (Vals) with Quinceañera.
Generally, the main chambelan is someone very close to the Quinceanera either a brother, cousin or relative. It can also be the case that he is her best friend from childhood, school or a neighbor. Being the main chamberlain someone close to the Quinceanera has many benefits as she will feel comfortable with him around at all times and there is trust and communication to express what he or she likes or dislikes. Chambelan will need to be someone reliable who will be able to attend each of the dance rehearsals.