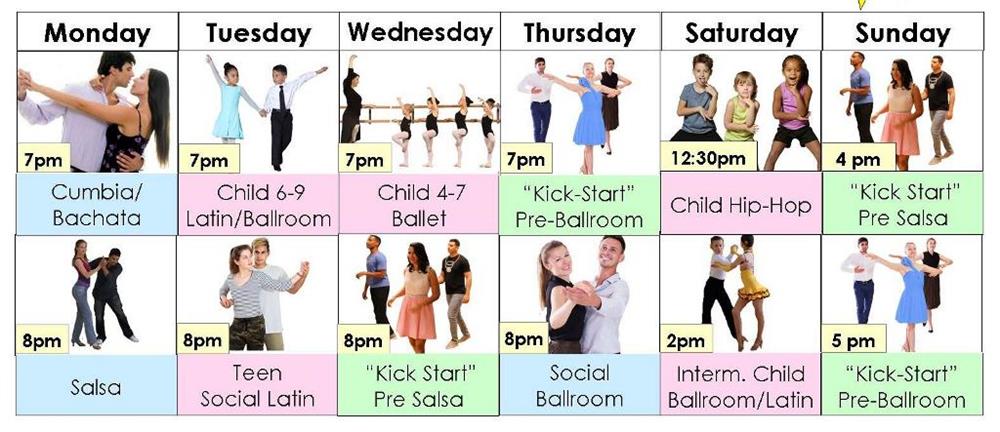 Dear Friends,
We hope you and your families are staying safe and healthy! To help you break through this new routine of social distancing and help you stay in shape we are offering new "Kick-Start" dance classes for adults. 
Our "Kick-Start" pre-dance group classes are designed to jump-start your dancing. Whether you are a total beginner or a "rusty" seasoned dancer, this class will be good for you. "Kick Start" classes offer you accelerated learning over a period of two weeks. Class meets twice per week.
Because all our work in these classes is solo, you DO NOT NEED A PARTNER. Over years we've noticed that it really helps dancers to work on basic things by themselves. That makes sense; you have to know how to do something before you get to do it with a partner. Working on basics really helps you once you have to dance with a partner.
We will have two "Kick Start" classes:
Wednesday 8pm and Sunday 4pm
Thursday 7pm and Sunday 5pm
As for kids we also have a few Coronavirus-safe options such as Ballet and Hip-Hop. Both styles do not require partners. In addition it is very easy to social distance kids in those classes. We are also doing solo dancing in our kids Ballroom /Latin class for now, so if your child does not have a partner but still wants to learn Ballroom/Latin it is not a problem.
According to Governor's order kids under age 10 are not required to wear face masks. However, it is ultimately up to parents whether to make their child to wear a mask or not. Regardless of your decision our teachers and studio staff always wear face masks.
Tuesday 7pm            
Wednesday 7pm            
Saturday 12:30pm    
Friday Social Dance.
This Friday, July 24 we will have our 
weekly social dance
 from 8:00pm-10:30pm. As for face coverings, they are required.