We hope that you all stayed safe during Tropical Storm Beta. As for DanceSport Club, everything here is fine, we did not have any water damage and classes are going as usual. 
October is coming up soon. And so are the Holidays. We will once again hold our Annual Holiday Dance Showcase in December. Our dance classes are starting to get ready for performances! If you want your child to perform in December, it is time to register.
 Kids Classes

Children Ballet
Our kids' ballet dance classes are looking good. We have two different classes: Wednesday 7pm class and Saturday 11am class. Wednesday ballet class is for younger or less experienced kids and Saturday for older or more experienced kids. As a result we will most likely be doing 2 ballet class performances this year for our Showcase! There is still time to register your child so they can take part in the fun performance. So, when registering please talk to us and consider which dance class will be more suitable for your child.

Children Latin Fusion
Our Children Latin Fusion dance class on Saturday 1pm is a great way for high energy or more experienced kids to learn something fun and athletic. We have a group of very dedicated young dancers and that class looks to be shaping up nicely. This new dance class will incorporate basics of both traditional Latin dances such as Salsa and Cumbia as well as modern dances such as International Latin ChaCha and Rumba, and even some contemporary hip hop. In this Latin Fusion class children do not need a partner, we are teaching many solo steps. It is a fun and energetic dance class designed to provide your child with both dance knowledge and exercise. This class will also work toward performing in our December Holiday Showcase.
Adult Classes
For our busy adult dancers, we have a few dance classes too. Our "Anyone Can Dance" classes are designed just so that anyone can learn to dance. They are fairly easy and fun.  Keep in mind, currently in our adult group classes we require people to bring their own partner, we do not change partners due to pandemic.
"Anyone Can Dance" Cumbia/Bachata  Wednesday       8pm
"Anyone Can Dance" Salsa part 1  Monday 7pm
"Anyone Can Dance" ChaCha and Rumba  Sunday 4pm
However if group dance class schedule does not work for you, or you do not have a partner to dance with, please consider our Private Dance Lessons. We have a "New Student Special" package that is designed to help people to start dancing. Private dance lessons are more flexible in scheduling and you do not need a partner.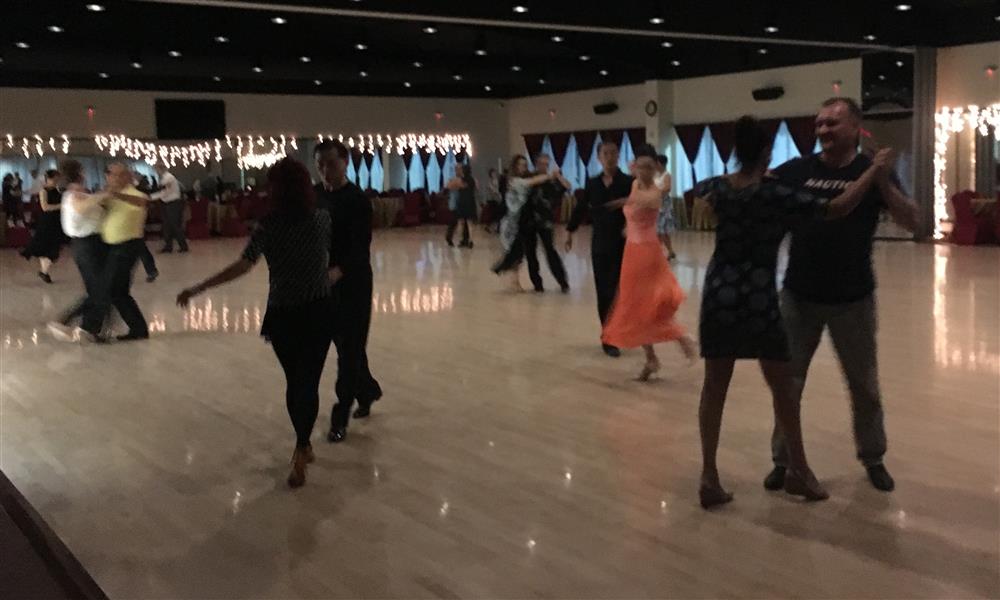 Friday Social Dance.
This Friday, September  25 we will have our weekly social dance from 8:00pm-10:30pm. As for face coverings, they are still required.