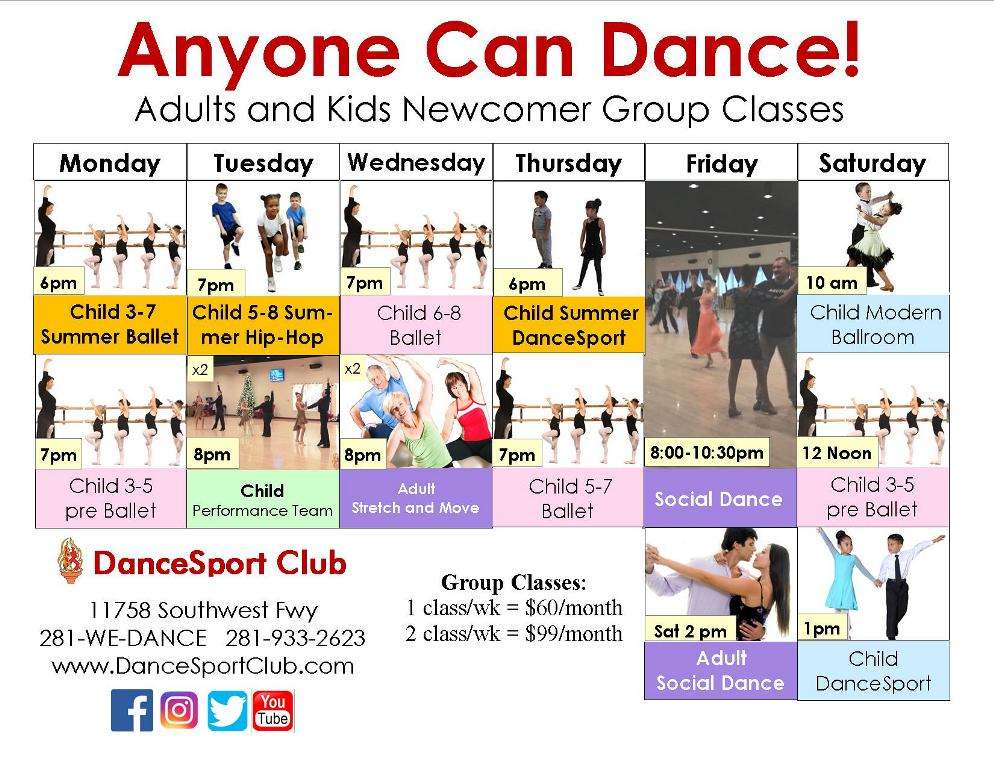 Happy Cinco de Mayo and Mother's Day! We hope you are having a wonderful holiday weekend. To all our dance-moms: we thank you for your continuing support in teaching your children to dance. It takes a dance-village to raise a child and we are very happy to have you on board!
Summer is approaching. That means kids are out of school and on vacation. Therefore, it is time to make some Summer resolutions to get you up and moving. Let us give you a couple of simple suggestions:
•        Take some dance classes with your wife/girlfriend/neighbor at DanceSport Club
•        Register your kids for dance classes at DanceSport Club

Children Summer Group Dance Classes
We organized several special Summer Classes for our young dancers. Registrations for these classes are already open. Classes start in June. One (1) class per week classes are $60/month. Two (2) classes per week are $99/month. 

Adult Group Classes
This summer we will offer "Anyone Can Social Dance" group class for adults on Saturdays at 2pm. This will be a starter adult social dance class that no one should miss. Each month we will learn one or two different social dances. It may be Salsa, Cumbia, Bachata, Waltz, Foxtrot, ChaCha, Two Step to name a few.

Private Dance Lessons (for very-very busy people)
If group classes do not fit your busy schedule, take advantage of our new Summer Special. It is Six (6) Private Dance Lessons for $299. Almost 50% off from regular priced private lessons. Private dance lessons are flexible to schedule. They are suitable for adults, teens and young children.
We look forward to seeing you on the dance floor at DanceSport Club!