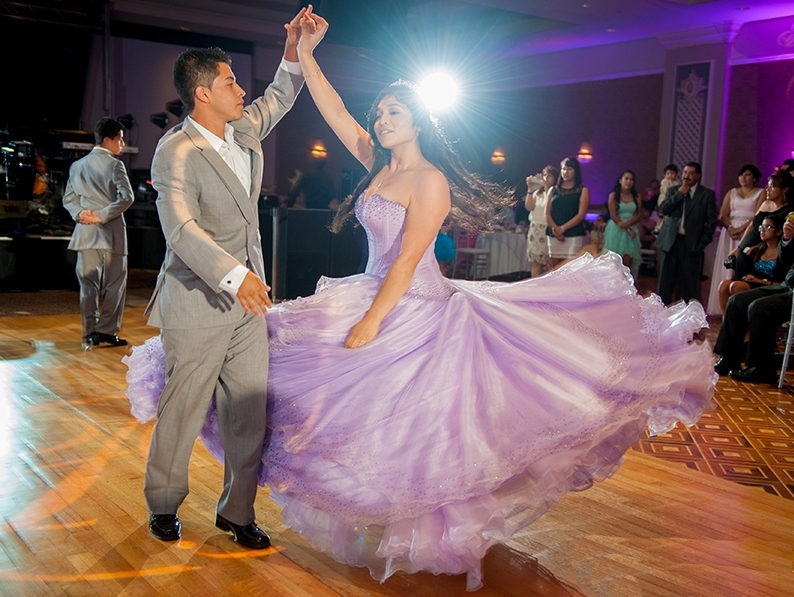 Las celebraciones modernas de quinceañeras suelen ser fiestas elegantes que incluyen muchos invitados. En muchos sentidos, son muy similares a una boda. La planificación de una quinceañera comienza temprano y la familia y los padrinos ahorran dinero para la fiesta hasta que la niña sea mayor de edad. Las preparaciones prudentes pueden tomar de medio año a dos años.
El baile es a menudo una parte importante de la celebración de la quinceañera. Los bailes incluidos en la Quinceañera tienen que ser aprendidos y estar listos para actuar frente a los invitados. Además de los bailes especiales como el baile de padre e hija, el baile grupal de vals y el "baile sorpresa", los celebrantes e invitados a menudo bailan al ritmo de la música de salsa, cumbia, cha cha, merengue, bolero y rumba.
Una de las tradiciones de quinceañera más populares es el vals, un baile elegante y coreografiado realizado por la cumpleañera y su corte. Si este es también el primer baile de la celebración, la quinceañera tomará a su padre como compañero. A menudo puede llevar meses de planificación y varios ensayos preparar una corte para el baile coreografiado. Y algunas familias optan por contratar a un coreógrafo de baile profesional para guiar la fiesta.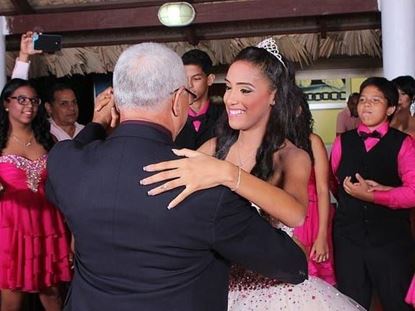 The Quinceañera today still includes the father and daughter dance. It continues to be one of the most emotional parts of the Quinceañera celebration as it symbolizes the birthday girl's first dance as a young woman with her father. If the father is not available, usually an older man that has served as a father-figure will dance. The father and daughter dance is traditionally a waltz and it's often an opportunity for the father to give his daughter words of encouragement as she takes her first steps into womanhood. According to custom, a quinceañera's first dance is with her father. It's usually to a song of the father's choosing that has a certain significance to them. Traditionally, it also represents a girl's first public dance. Afterward, the father can hand the quinceañera over to her escort.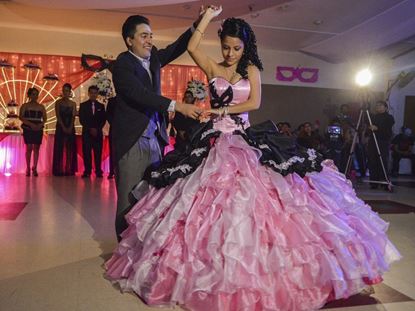 Following the father and daughter dance, the Quinceañera chambelan (or the birthday girl's escort) will approach the father and ask for permission to dance with the birthday girl. Traditionally, Chambelan will dance Waltz (Vals) with Quinceañera.
Generally, the main chambelan is someone very close to the Quinceanera either a brother, cousin or relative. It can also be the case that he is her best friend from childhood, school or a neighbor. Being the main chamberlain someone close to the Quinceanera has many benefits as she will feel comfortable with him around at all times and there is trust and communication to express what he or she likes or dislikes. Chambelan will need to be someone reliable who will be able to attend each of the dance rehearsals.